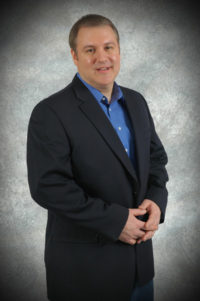 Jeffrey M. Magada
Executive Director
Jeffrey M. Magada is the founder and Executive Director of Flying HIGH Inc., a 501(c)(3) tax exempt organization. Flying HIGH Inc. had its unofficial beginning in the fall of 1988. While working as Supervisor of the Austintown Police Department's Juvenile Diversion Program, Mr. Magada coordinated a team of eight young men to participate in a touch football league sponsored by the Mahoning County Juvenile Court. Named for the overcoming spirit of the eagle described in Isaiah 40:31, the Austintown Eagles had tremendous success. Word got around and the Austintown Eagles were regularly entering multiple teams in the league. When the court league could no longer accommodate them, Mr. Magada formed the League of Champions. It was officially incorporated in 1993 and received its 501(c)(3) tax exempt status in 1994.
From 1994 to 2004, the League of Champions Sports programs provided structured, organized sports activities to over 2,800 at-risk youth, ages 12-18, throughout northeast Ohio and western Pennsylvania with its annual 4 on 4 flag football and basketball tournaments. The League's sole purpose was to use the platform of sports to engage at-risk youth and teach life skills by involving them with volunteer mentors and emphasizing character building. The League of Champions changed its name to Flying HIGH Inc. and expanded its services to help more vulnerable people.
Flying HIGH Inc. stayed true to its mission to help all people develop their potential and discover their destiny. Through the years, it has evolved its services to more effectively accomplish this mission. By way of experience, Flying HIGH has learned a very important key – to help others fulfill their potential, we must provide them with opportunities to develop their talents so that they can advance economically. In 1996 Flying HIGH started focusing on providing educational and economic opportunities for those most in need.
2016

Funds received from the Ohio Department of Job & Family Services in 2016 allowed Flying HIGH Inc. to launch a Rapid Housing Program that provides assistance to individuals transitioning to their own house or apartment. The program assists working individuals and families with rent and furnishings for up to six months while they establish themselves to the point of self-sufficiency.

2016

In 2016 Flying HIGH Inc was the only program in Ohio awarded a grant by the Department of Labor to help individuals train for middle to higher paying careers in the Advanced Manufacturing and Healthcare industries. Programs available to date are Welding, Machining, State Tested Nurse's Aide, Licensed Practical Nurse, and Registered Nurse.

2015

February 2015 marked the opening of Flying HIGH Inc.'s Eagle's Nest Recovery House. As one of the first Level II recovery houses in the Mahoning Valley, the Eagle's Nest provides residential housing for individuals who are in the process of recovery from alcohol and other drug addictions. The residence houses up to seven men, providing a positive, recovery-focused environment with support for abstinence that enables individuals to achieve their life goals. Flying HIGH Inc.'s Eagle's Nest Recovery House is an associate of Ohio Recovery Housing, subject to its peer review and operating in accordance with the association's standards of excellence and code of ethics.

2014

Flying HIGH Inc. became a provider of alcohol and drug treatment services licensed by the Ohio Department of Mental Health and & Addictions Services in November of 2014. Services offered include alcohol and drug assessment, case management, group counseling, recovery coaching/peer support, and recovery housing.  In 2016, Flying HIGH launched an integrated program that pairs traditional recovery counseling with nutritional education and treatment. Participants are assessed by a nutritionist and learn how correcting biochemical imbalances and fixing nutritional deficiencies contribute to a more successful recovery. The program provides an alternative for individuals who want to achieve recovery without the use of synthetic medications.

2012

In 2012, Flying HIGH Inc. received funding from the U.S. Department of Agriculture to implement a social enterprise initiative called the G.R.O.W. (Gaining Real Opportunities for Work) Farmers Markets in Food Deserts project. The project trained individuals to grow their own produce and sell it at road side stands located in food deserts, thus helping growers become self sustaining and increasing accessibility to fresh produce for people in low income areas. The G.R.O.W. project continues to flourish and has evolved into GROW Urban Farm. Today the farm exists to provide workforce development and job readiness training to individuals who have barriers to employment. Participants gain real work experience that helps them acclimate to a real-world work environment, and they develop transferrable skills that will help them maintain employment in any industry. Of course, the great by-product from this is beautiful, quality produce accessible to valley residents.

2011-2012

Flying HIGH Inc. established the Professional Development Center (PDC), which is approved and registered by the Ohio Board of Career Colleges and Schools (Reg.#11-03-1936T). The PDC is a Christian-based technical school that offers professional development curriculum to help individuals gain both the technical and professional skills required for entry level positions. The PDC created the Pursuing Purpose through Employment program, unique in that it integrates job readiness training and professionalism development with motivational guidance. This process helps ex-offenders overcome past mistakes as they discover their natural abilities and work toward employment. As participants learn tangible skills that equip them for job attainment, they embark on a journey of self discovery that inspires hope and a positive belief in themselves and their future.

2010-2012

Flying HIGH became a licensed provider of prevention services by the Ohio Department of Alcohol & Drug Addiction Services (ODADAS). It became a Benefit Coordinator for the ODADAS Access To Recovery program and helped over 200 individuals connect to alcohol and other drug treatment and recovery support services. Today, Flying HIGH continues to provide prevention, as well as. treatment services.

2009-2011

Flying HIGH received funding from the Ohio Department of Job & Family Services to implement its Urban Youth Works Project. The program helped 75 low income, disadvantaged young adults become job ready. Fifty-five completed occupational training and/or were placed in post-secondary education. Fifty-five were placed in employment and 32 worked with business mentors.

2009

In partnership with area churches and faith-based community organizations, Flying HIGH Inc. participated in "Pray 3 Days," a 72 hour long prayer vigil for the spiritual healing and economic revival of the Mahoning Valley. Flying HIGH Inc. was instrumental in securing funds for the event, held at the Covelli Center, and served as fiduciary agent for the project. Since that time, the area has experienced multiple economic up-turns – considered answers to those prayers.

2006-2009

Flying HIGH received funding from the U.S. Department of Health and Human Services to implement its Communities Empowering Youth project. Flying HIGH conducted the area's first ever community youth assessment, which identified gaps in services for at-risk young people. Young people revealed that they wanted to be involved in neighborhood revitalization and have more economic opportunities. This gave birth to Flying HIGH's Let Your Potential Soar (LYPS) initiative, which focused on providing leadership development, economic opportunities, civic engagement, and positive activities for at-risk youth. The Let Your Potential Soar initiative held two youth leadership seminars attended by over 1200 youth. Many were inspired to become involved in neighborhood revitalization projects. Youth became involved in clean-up efforts to eliminate the blight on numerous streets and create community gardens. LYPS held a Youth Job Fair that was attended by over 700 young people who had the opportunity to connect with employers & training schools. LYPS also created Youth Leadership Zones to provide space for youth to take part in a variety of activities that included career exploration and educational programs. It then started the Rise-N-Shoot basketball league and tournaments. The league partnered with numerous community organizations to reach over 1000 at-risk young people who participated in these positive, character building activities. Flying HIGH was nationally spot-lighted by the HHS Office of Faith and Community Based Initiatives for its Let Your Potential Soar project.

2007-2008

Flying HIGH Inc. received funding from the U.S. Department of Labor to start the Resource Opportunity Center (ROC). Flying HIGH partnered with the Work Force Investment Board, OneStop, and HeartReach Ministries in implement the project. It was known as the "Inner-City One Stop." The ROC helped 120 individuals obtain employment at an average starting wage of $9.68/hr; connected over 180 individuals to post-secondary education, training, and GED classes; and built relationships with over 30 employers and other community organizations.

2006-2008

In partnership with YUMADAOP, Flying HIGH received funding from the Governor's Office of Faith and Community Based Initiatives to implement the REUNITE Ohio initiative. Through the project, Flying HIGH provided re-entry services in multiple prisons to help offenders successfully re-integrate into society. Flying HIGH also helped offenders find jobs after their release. Seventy-four ex-offenders were placed in jobs.

2003-2004

Flying HIGH Inc. helped Victory Lutheran Church (Pastor Hosea Ekong) start an after-school program for at-risk youth in the City of Youngstown. Operation Learning Community Program (OLCP) was created through a partnership between Victory Lutheran Church, Lord of Life Lutheran Church (Judith Lobaugh), and Flying HIGH Inc. Through the oversight and leadership of Mr. Magada, Flying HIGH Inc. provided the expertise for program development and served as fiscal agent for the project so it could obtain start-up funds.

1996-2005

Flying HIGH Inc. launched a social enterprise called the Right to Learn Center. It provided academic support with math and reading tutoring services to over 1000 at-risk children, ages 4-18. The Ohio Department of Education recognized the Right to Learn Center as an approved provider of supplemental educational services. Under Governor Bob Taft's Ohio Reads initiative, Flying HIGH recruited and trained 89 volunteers for a local elementary school to help at-risk children read better. In appreciation Governor Taft attended Flying HIGH's volunteer recognition banquet.
If you are interested in enrolling in our programs or have any questions, please contact us by filling out the Contact Form or call us at 330-797-3995.